Spooky Halloween Baking Recipes Your Little Monsters Will Love
Easy Halloween Baking Recipes For The Whole Family
Spooky season is upon us, and we're getting into the
spirit
of things! Whether you're carving pumpkins or gearing up for a good old-fashioned Halloween party, getting ready for fright night can be a bit demanding. 
One of the best parts of the scariest time of the year is all the treats you can expect, and these easy Halloween recipes make seasonal baking a real scream. The best thing about these effortless (and delicious) recipes is that anyone can get involved, so make sure you try them out with your nearest and dearest ghouls.
Ghastly Ghost Cupcakes
(Source: Annabel Karmel)
If getting messy with icing is your biggest fear this Halloween, don't fret. This recipe by Annabel Karmel doesn't require any piping or mixing, all you need is a butter knife and a little bit of vision. Take your ordinary cupcakes to the next level with this wonderfully easy Halloween baking recipe.
Ingredients:
125g Unsalted butter, and extra for greasing your tins

125g Caster sugar

1tsp Vanilla essence

2 Eggs

125g Self-raising flour

Corn flour for dusting (white flour is also fine)

500g Ready to roll white icing

Black writing icing pen (black food colouring or candy eye decorations are fine)
Preheat your oven to 180˚C, then beat the butter, sugar and vanilla essence together until the mixture is light and fluffy. Next, add one egg and a tablespoon of flour at a time then beat well and fold into the remaining flour.

Spoon the cupcake batter into your greased tins, whether you use a cake tin or pudding basin, then bake for 20 minutes and leave to cool.

Remove the cupcakes from their mould, and then cut the raised top to create a flat surface

Roll out the white icing and then cut into 15cm circles, make sure not to cut them too large or too small 

Drape the circles of icing over the cupcakes. You should be aiming for a sheet-like effect, think classic ghost shape. You can pinch the bottom of the icing to create a flowing look.

Fashion eyes for your ghosts, either using excess icing and a black writing icing pen for pupils (or food colouring) or go the easier route with ready-to-stick candy eyes. 
(Source: BBC Good Food)
When it comes to easy baking recipes nothing takes the biscuit quite like gingerbread men. Simple to bake and great fun to decorate, these cookies by Anna Glover only take 20 minutes in the oven. Little monsters and grown ghouls alike will love turning these gingerbread men into mummies or ghosts. 
Ingredients:
100g unsalted butter cut into cubes
50g golden syrup

50g black treacle

100g light brown soft sugar

½ tsp bicarbonate of soda

1 tbsp ground ginger

1 tsp ground cinnamon

½ tsp mixed spice

225g plain flour

100g Icing Sugar

Black Writing Icing
Directions:
Heat the syrup, butter and sugar in a medium-sized saucepan on low heat for about 6-8 minutes or until the sugar has dissolved. Remove the heat and leave to cool for 10 minutes

Whisk the bicarbonate of soda, ginger, mixed spice, ground cinnamon and plain flour in a bowl until mixed well. Add a pinch of salt and the cubed butter to the dry ingredients and mix with a spoon before kneading into a ball, add a teaspoon of water if needed. Tip your mixture onto a worktop and keep kneading until you have a soft and flexible dough.

Once your dough is prepared, press the mixture into a disc and then freeze for 15 minutes or freeze for half an hour

Roll the dough out onto a lightly floured surface and separate into smaller batches. Then, roll out your sections to 5mm thick and cut using gingerbread cutters. To get the most out of your dough, roll any excess out again and cut. You'll be left with around 20-25 gingerbread men depending on the size of your cutter.

Transfer your gingerbread onto a parchment-lined baking sheet, and space them evenly, then chill for another 10 mins

Heat the oven to 150˚C fan/170˚C or gas 3, then bake for 10-15 minutes until the edges are lightly golden. Cool on the baking sheet for 10 minutes, then transfer to a wire rack until they are cooled completely.

Mix the icing sugar with a ½ to 1 tbsp of water to create a thick pipeable icing. Transfer the icing to a piping bag and cut a very small hole in the bottom.
Decorating
To Make Ghosts - Use the piping bag to create a border around the gingerbread, then leave to set. Add a drop of water to the remaining icing and then fill the ghost shapes with the loosened icing. Use a toothpick to smooth out any lumps and then leave to set. Use the black writing icing to add a face.
To Make Mummies - Cut a thicker hole in the bottom of your piping bag at an angle, then go back and forth across the gingerbread to create a bandage-like effect. Create eyes by using your black writing icing, or get creative with black food colouring.
Spine-Chilling Apple Smiles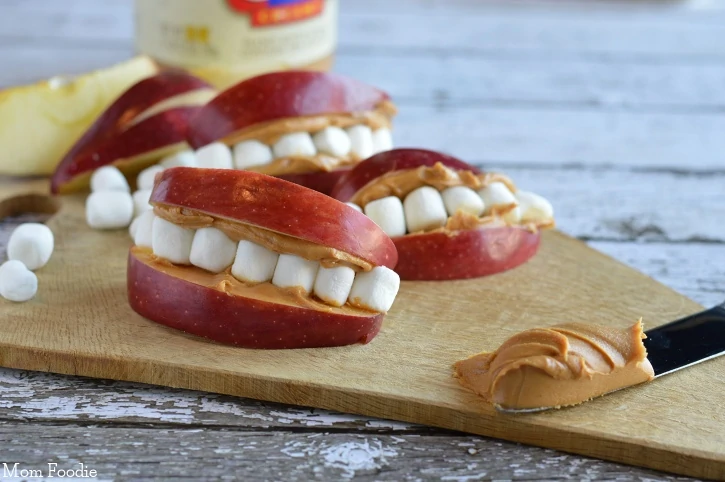 (Source: Mom Foodie)
This time of year is full of cavity-inducing candy and heaps of sugar, so this snack is a welcome shot of healthy eating to break up all that chocolate. This healthy Halloween recipe is sure to get them interested in eating their five a day, and make great work of those trick-or-treating apples!
Ingredients:
1 Red apple

Nut butter (whichever you prefer)

Yoghurt covered raisins
Directions:
Core the apple and cut it into six thick wedges, then position two wedges with the red skin facing out to make a mouth shape.

Fill the "mouths" with nut butter, then space out the yogurt-covered raisins to create teeth. Get creative with placement! You can also use marshmallows for a sweeter treat like

this recipe

from Mom Foodie.