10 Easy Upcycling Projects You Can Do At Home This Summer
Schools out for summer, the kids are home, and we're officially running out of ideas. Having more time with your family is one of the best bits about summer, but keeping wee ones entertained takes a lot of energy. If you've already exhausted your list of activities and are feeling the pressure, we've got you covered.
Upcycling is a sustainable, cheap, and fun way to transform old junk around the house into something totally new. The perfect hobby for those who hate to throw things away, this planet friendly activity has so many possibilites to keep the whole family entertained.
We've covered the basics of upcycling furniture on our blog before, and even had the fabulous Anita's Upcycling give us the rundown from a professional. If upcycling furniture seems a little difficult, we have plenty of easy ideas that are brilliant for keeping your family busy.
1. Egg Carton Flowers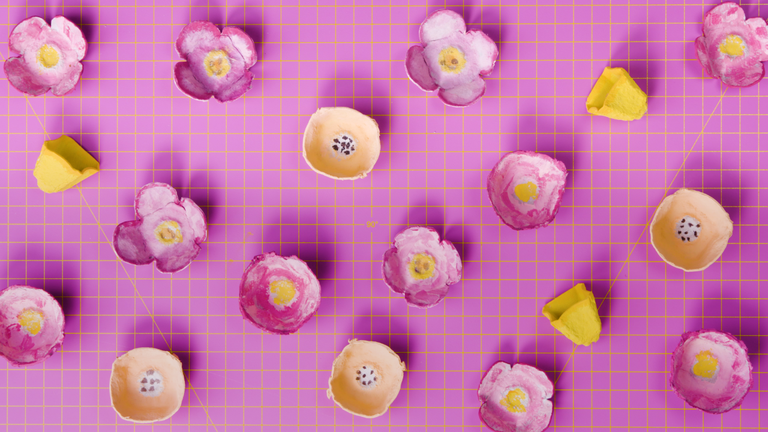 (Source - Good Housekeeping)
Most fridges have at least one carton of eggs going spare, and this project is much better than chucking the empty boxes into the recycling. Hayfever is never worse than at this time of year, so why not enjoy the look of flowers without the sniffles? 
This project from good housekeeping is a cheap and easy way to turn household waste into a fun activity that keeps your wee ones entertained. If regular colouring-in has lost its appeal, this is a great way to spend an afternoon. There's more than enough room to let their creativity bloom, and this craft is one you'll love showing off.
2. Beach Ball Bag
Bringing an inflatable beach ball along on a day out is a staple of any summer. However, it's almost as common for inflatables not to survive the trip. Punctures and ruined games are almost inevitable, but who says you have to throw them out?  This fun project keeps plastic waste out of the environment, and is brilliantly useful.
This project by Christine Dedman turns neglected beach balls into handy tote bags, which work perfectly has a way to pack swimming costumes. All you need for this projects is a deflated beach ball, some scissors, scrap rope and a sewing kit. 
3. Garden Chair Painting
 (Source - Pinterest) 
Simple yet effective, this project is a great way to keep budding artists occupied. Upcycling furniture can be as easy as using the right paint and a little bit of imagination. Garden Furniture can often look a little tired after a long winter, and this project helps bring them back to life.

Here at Taylor's on the High Street, we're proud stockists of Little Greene Paint. We have heaps of shades, so you can get in touch with your inner picasso and let your creativity go wild. Why not let your wee ones paint their own chair for a personal touch?
4. Can Planters

(Source - Home Edit)
While you're in the painting mood, this next project is another way to get the whole family expressing their creative side. Incredibly easy and cheap to make, these pots are great for encouraging your kids to try something new. 
Empty cans are a feature of most busy family homes, and this upcycling idea makes good use of them. All you have to do is:
Wash out your empty cans (make sure there aren't any sharp edges!)

Nail drainage holes

Paint your cans with your favorite designs (this project used spray paint)

Fill your cans with soil and get planting!
5. Brick Planter
(Source - Pinterest)
Probably the easiest project on our list today, making a planter is as simple as finding a stray brick. Encouraging your little ones green thumb is a great way to spend your summer, and this project is a great way to start. 
All you need is a brick, some soil and some seeds. Fill the holes in your brick with soil and bingo - you have a mini planter that's perfect for growing herbs and succulents! You can also get your kids to decorate their brick planters with paint or even chalk.
6. DIY Teacup Candles
(Source - The Dainty Dress Diaries)
Is there anything worse than chipping one of your favourite mugs? This DIY trend often uses fine china, but you can also repurpose mugs with broken handles or small chips, so you won't have to chuck any out.
If you want to emulate this home decor trend however, you can easily find teacups at any charity shop, so there's no need to sacrifice your tea sets. We love this tutorial by the dainty dress diaries, which takes you through all the steps of DIY candle making.
7. Paint Sample Calendar
(Source - Popsugar)
Need to drag the kids to your local DIY shop for essentials this summer? We have just the thing to make your next trip go much more smoothly. Paint samples are free and available at most big DIY shops, and our Banchory Furniture Shop of course! 
This paint sample calendar is great for making use of old photo frames, and is great for keeping your holiday activities organised. This tutorial uses paint chips to create a bright calendar that look amazing in any home.
8. Paint Can Ice Bucket
(Source - Hey Let's Make Stuff)
There's nothing better than an ice cold drink on a hot summers day. If you have leftover supplies from a home DIY project that you have lying around then you should definitely give this craft a go. All you need is an empty paint bucket and some wallpaper and you are good to go.
This tutorial by Cori George is a great one to follow, and is easy enough to get through, so you'll be sipping on a cold drink in no time! This DIY ice bucket pairs perfectly with one of our stylish serving trays.
9. DIY Cardboard Roll Wall Organiser
(Source - A Kailo Chic Life)
If your home is looking a little overrun and you want to get your wee ones on board with organisation, then this DIY project is perfect for you. This upcycling project by A Kailo Chic Life recycled cardboard tubes you can find around the house to make a unique wall organiser. 
Brilliant for kids bedrooms, this organiser looks great and takes very little time and effort to make. Even better, it could get them more interested in keeping their space tidier. Maybe not, but it's a fun project nonetheless!
10. Tissue Box Organiser
(Source - Domestically Blissful)
Just like the wall organiser, this DIY project is great for preparing kids to go back to school. To get started all you need is a tissue box, which you're sure to have handy if hayfever is hitting hard this year!
This project uses empty boxes and toilet roll tubes to create an effective organiser, so your kids can get creative and make one that suits their personality. Simple yet effective, this tutorial from blissfully domestic is a great one to follow.